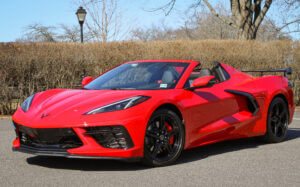 There is nothing quite like renting an exotic luxury vehicle. If you want to rent an exotic car that is going to ensure you have a memorable and thrilling driving experience, you should consider Cloud9 Exotics in New York and Naples. Unlike other vehicle rental companies, you can look forward to an impressive selection because of the extensive inventory of exotic vehicles available. 
We promise you'll likely find an exotic vehicle you would like to rent after you peruse our impressive selection. A few of the gorgeous models you can rent include the Vanderhall Carmel, the Cadillac Escalade (Sport Edition), the Lamborghini Urus, the McLaren 600LT Spider, and the Chevrolet Corvette C8 2LT.
Once you have chosen the exotic car you would like to rent from us, you can speak with our automotive experts, who will guide you through the rental process. If you're ready to begin the exotic vehicle rental process with Cloud9 Exotics, you can visit us at our New York and Naples branch at your earliest convenience. Our team cannot wait to meet you and arrange the rental car of your dreams. 
Convenient Delivery
Many vehicle rental businesses aren't dedicated to ensuring their clients have a memorable and convenient car rental experience. Fortunately, unlike those businesses, Cloud9 Exotics is committed to ensuring you're treated with the utmost respect, which is why we ensure our exotic vehicle renting process is as convenient as possible. 
Our team can arrange for delivery if you don't have the time to visit us and fetch your rental vehicle in person at one of our conveniently accessible locations. We will arrange for one of our respected, reputable, and trustworthy staff members to deliver your rental vehicle to your home or workplace. 
Inexpensive Pricing And Flexible Rentals
At Cloud9 Exotics, we pride ourselves on being a leader in the exotic vehicle rental industry. You can expect to enjoy access to an extensive vehicle selection and unequaled pricing. 
Rentals at our company start from as little as $249. Additionally, we provide our loyal clients with various flexible exotic rental options in the form of different rates packages that suit their needs, wants, and preferences. 
At Cloud9 Exotics in New York and Naples you can choose to rent a vehicle with us hourly, weekly, or monthly. No matter what occasion you need an exotic rental vehicle, we promise that one of our rental terms will be able to accommodate your needs. You can hire one of our exotic cars for everything from a birthday party, engagement party, and baby shower to an anniversary, graduation party, high school reunion, or wedding. 
When you choose Cloud9 Exotics, we guarantee to match your budget. Many exotic cars in our inventory have affordable rental pricing terms. For 24 hours, you can rent a Lamborghini Huracan for $1199, an Aston Martin DB11 Volante for $999, a BMW i8 Roadster for $549, and a 1963 Cadillac DeVille for $599.
Exotic Car Hiring Service You Can Trust
You can breathe easy knowing that after deciding to commit to hiring a vehicle from Cloud9 Exotics, you can trust the vehicle to operate as it should and complete the purpose you have hired it for. Each of our luxurious vehicles will afford you a comfortable driving experience and ensure you are not soon forgotten. 
If you're having trouble choosing an exotic vehicle, you can trust us to help you. We would also like you to note that our rental fleet is continuously updated to suit our customer's preferences, needs, and wants, which is why you're likely to hire an exotic vehicle you want to drive. 
Cloud9 Exotics in New York and Naples will always go the extra step to ensure our clients are satisfied with their rental car and agreement. We always endeavor to meet, if not exceed, our client's expectations. Should you wish to talk to us about the vehicles we have available for rental, you can call us at 1(800) 673-9900. Alternatively, you can visit us in-store to view our vehicles and begin the rental proceedings.